Eightball Tattoo Studio SHOPPING CENTER "SOTO" Patision 128 , Athens, Greece Phone: (+30) 21 0821 4780 ‎ Email: eightballtattoo@yahoo.com  
Eightball Tattoo Studio
The best tattoo studio in Athens
---
If you ever need to call on the most wide spread, modern, though absolutely controversial phenomenon of social life nowadays, tattooing definitely figures on the top of the list. Neither "fashion" nor "trend", seem to be enough to explain this urgent need of people of all ages to mark their bodies with symbols, figures, letters, numbers or even whole scenes or pictures. However, a tattoo is not just a choice of those who want to go with the flow. Tattoos reveal the strong will of their owners to transform their bodies into tools of expression, to imprint their feelings, thoughts, some memories or even their personal philosophy of life on their bodies and merge their body, mind and soul into one. Sometimes even to pay tribute to beloved people or important life moments. This is why tattooing is not a typical procedure. It is art. And that…we know in "Eightball Tattoo Studio" in Athens, Greece. We don't deal with each case superficially. On the contrary. We bond with our clients, put our effort to feel their inner needs, step in their shoes and do our best to signify their desire on their body, help them achieve the ultimate harmonization of body and soul. Fully armed with passion, inspiration, talent, expertise, consistency and great quality, we can assure you that if your road leads you to searching for a tattoo parlors in Athens, "Eightball Tattoo Studio" is ready to offer you the ultimate experience and introduce you to the world of tattoo and its alleviative effects.
Tattoo styles
Choose your favorite tattoo style and we will make it happen
---
Are you ready to get a tattoo?
Request an appointment NOW!
Appointment
Latest news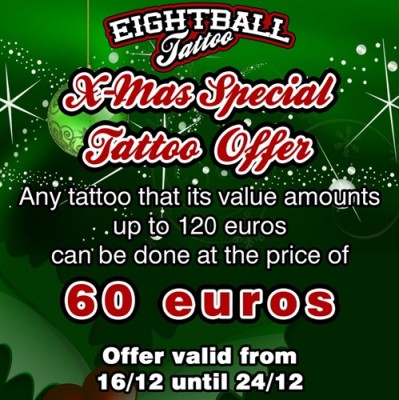 Once again, for the festive season, Eightball Tattoo makes a unique offer tο all of his friends...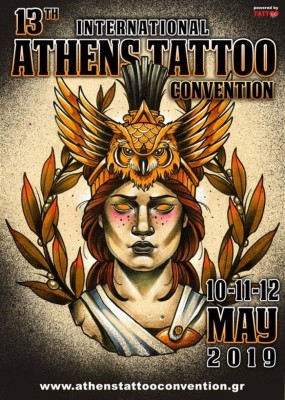 The annual appointment of tattoo fans is being renewed for May 10-11-12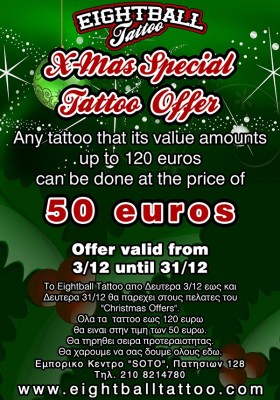 Once again, for the festive season, Eightball Tattoo makes a unique offer tο all of his friends
Sign up !